Premier Columbaria proudly presents several great answers to a tough economy. These offers have been extended by popular
demand to help you prepare your 2015 promotional campaign. Call us today to reserve your order for a 2014 installation.


6 Pack Special of The Camden
Weight: 4,900 lbs/set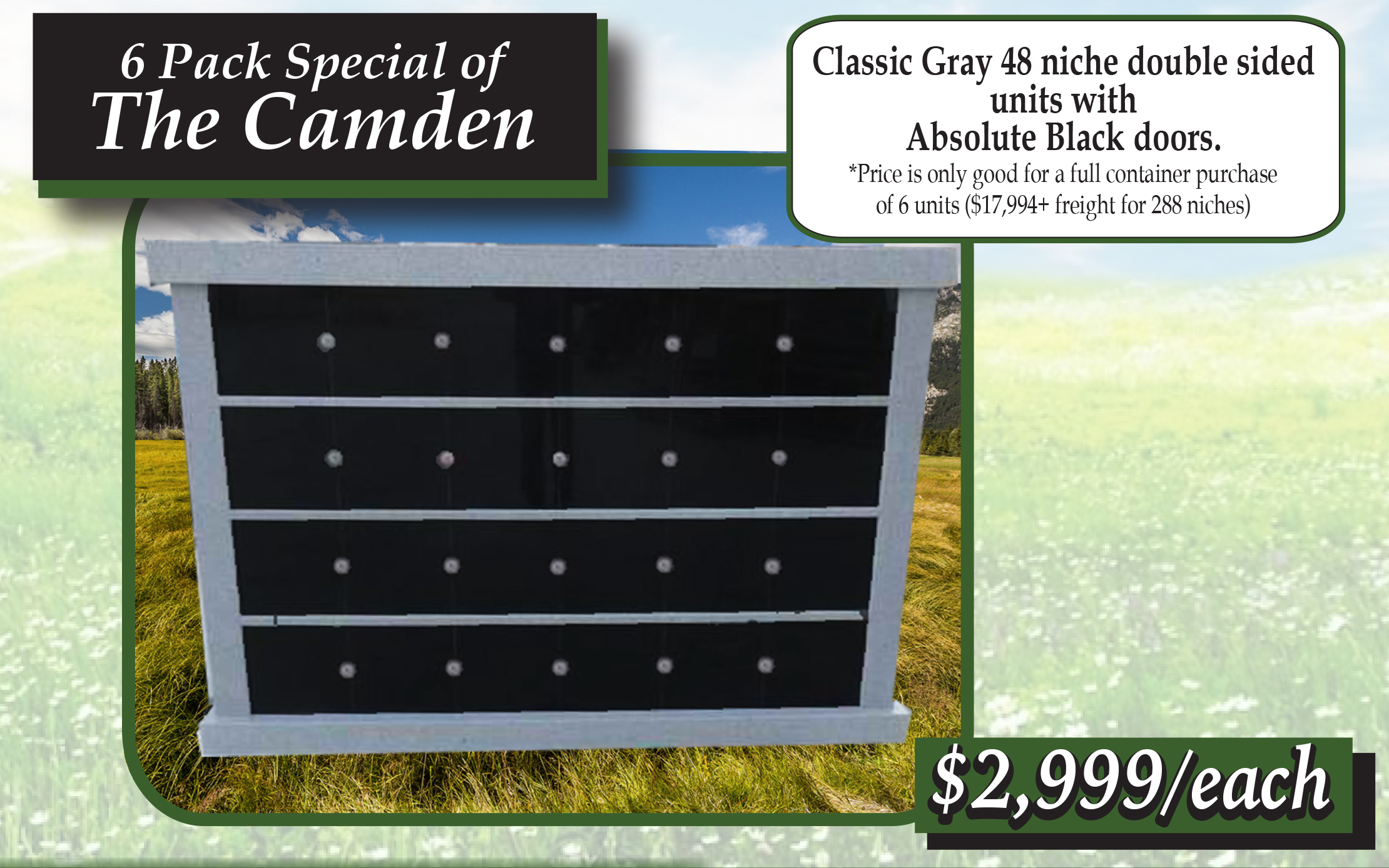 Dover 144 Niche Columbarium
Introducing our new value line

9x9x9 niche traditional quad Absolute Black outer doors with Premier White inner doors.
• All-granite construction. The only material proven to stand the test of time. No steel to rust, concrete to fail, aluminium to rot
• Weight: 11,000 lbs.



Holds 2 urns - That is less than $35 per placement. Great profit opportunity.



Our Lowest Price Ever $9,999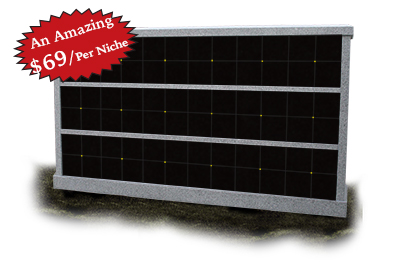 Newcastle 312 Niche Columbaria Set
Collection includes:



1x Newcastle 120 niche Flat Top All-granite Columbaria (interior niche dimensions 12" x 12" x 12")
4x Bristol 48 niche Flat Top All-granite Columbaria (interior niche dimensions 12" x 12" x 12")
• Patent Secure-Slide niche door with bronze rosettes. See our custom features page to learn more. Easy inurnments while the family
watches. No awkward large panels, inner doors or doors that fall out of alignment
• All-granite construction. The only material proven to stand the test of time. No steel to rust, concrete to fail, aluminium to rot
• One possible layout illustrated below. Several other layouts are possible, Contact Us to customize your memorial
• Many granite colors available
• Weight: 44,000 lbs.
• Saves freight! Entire set ships in one container truck



All pieces in Calico Granite with Calico niche doors:
Regular price: $43,550.00



Special: $30,999 (an amazing $99 per niche)



Southampton 242 Niche Columbaria Set
Collection includes:


1x Southampton 50- niche Dome Top All-granite Columbaria (interior niche dimensions 12" x 12" x 12")
4x Windsor 48 niche Flat Top All-granite Columbaria (interior niche dimensions 12" x 12" x 12")
• Patent Secure-Slide niche door with bronze rosettes. See our custom features page to learn more. Easy inurnments
while the family watches. No awkward large panels, inner doors or doors that fall out of alignment.
• All-granite construction. The only material proven to stand the test of time. No steel to rust, concrete to fail, aluminium to rot
• One possible layout illustrated below. Several other layouts are possible, Contact Us to customize your memorial
• Many granite colors available
• Weight: 42,000 lbs.
• Saves freight! Entire set ships in one container truck



All pieces in All Premier White Granite with Premier White Granite niche doors:
Regular price: $42,422.00



Special: $29,999 (only a $124 per niche for everything!)




St. Andrews
240 & 288 niche Cross Configured Columbaria

• Patent Secure-Slide niche door with bronze rosettes.
Easy inurments while the family watches. No awkward
large panels, inner doors or doors that fall out of alignment
• Honed polished granite niche interiors
• Niche interior dimensions 12" x 12" x 12"
• All-granite construction. The only material proven to
stand the test of time. No steel to rust, concrete to fail,
aluminum to rot
• All polished exterior with rock pitched top and bottom edges
• Many granite colors available
• Weight: 35,000 lbs.

In Calico Granite with Premier White niche doors:
240 niche: $22,999

288 niche: Call for Price


Bristol
48 niche Rectangular Flat Top All-granite Columbarium

• Patent Secure-Slide niche door with bronze rosettes. Easy
inurments while the family watches. No awkward large
panels, inner doors or doors that fall out of alignment
• Honed polished granite niche interiors.
• Niche interior dimensions 12" x 12" x 12"
• All-granite construction. The only material proven to stand
the test of time. No steel to rust, concrete to fail,
aluminum to rot
• All polished exterior with rock pitched top and bottom edges
• Many granite colors available
• Overall size: 90" long x 32" wide x 59.5" tall
• Weight: 6,500 lbs.

In Premier White Granite with Premier White niche doors:
Regular price: $5,895.00

Special : $4,199

Windsor
48 niche Rectangular Flat Top All-granite Columbarium

• Patented Secure-Slide niche door with bronze rosettes. Easy inurnments while the family
watches. No awkward large panels, inner doors or doors that fall out of alignment
• Honed polished granite niche interiors
• Niche interior dimensions 12" x 12" x 12"
• All-granite construction. The only material proven to stand the test of time. No steel
to rust, concrete to fail, aluminum to rot
• All polished exterior
• Many granite colors available
• Overall size: 90" long x 32" wide x 59.5" tall
• Weight: 6,500 lbs.

In Premier White Granite with Absolute Black niche doors:
Regular price: $6,295.00

Special : $4,399

In All Premier White Granite with Premier White niche doors:
Special : $4,199
Southampton
50 niche Round Dome Top All-Granite Columbarium

• Patent Secure-Slide niche door with bronze rosettes. Easy inurnments while
the family watches. No awkward large panels, inner doors or doors that fall out
of alignment
• Honed polished granite niche interiors . Niche interior dimensions 12" x 12" x 12".
• All-granite construction. The only material proven to stand the test of time. No steel
to rust, concrete to fail, aluminum to rot
• Many granite colors available
• Overall size: 83.5" diameter x 86.5" tall
• Weight: 14,500 lbs.

In Premier White Granite with Absolute Black niche doors:
Regular price: $17,242.00

Special : $14,403



All prices do not include freight/duty/shipping/handling. FOB point of origin. The least expensive way to ship the units to you
is a full container truck from our factory. If required, our installation or installation assistance is very reasonable priced.
Please let us know exactly what you are interested in and we'll work up an exact quote